Imdaad UAE Jobs and Careers 2023. Are you searching for jobs in the UAE Imdaad group? Here you can see the latest Imdaad careers from details are given below just explore through vacancies and recruitment in Dubai and Abu Dhabi. There are many jobs for Imdaad careers.
Imdaad is a Dubai-based network of firms that provides integrated, long-term facilities management services to improve physical asset operational efficiency. More than 7,000 talented individuals representing 37 countries make up the company's multi-cultural workforce.
Details About Imdaad
| | |
| --- | --- |
| Company Name | Imdaad Facilities Management Company |
| Job Location | DUBAI |
| Nationality | Any |
| Education | Bachelor Degree/Diploma/High school |
| Salary | Discuss during an interview |
| Benefits | As per UAE labor law |
| Last Updated on | 17-03-2023 |
About Imdaad UAE Group :
Imdaad is Dubai's leading facilities management business, with multiple industries and client honors and recognitions.
Imdaad, which has its headquarters in Dubai, was founded in 2007 and now employs over 5000 people.The company's success can be attributed to the true integrated facilities management solutions it offers to its customers. The group is made up of several enterprises that offer a wide range of services.
Here are a few examples:
The Imdaad Group also includes FARZ (Materials Recovery Facility), Isnaad (Soft Services), Imtedaad (Energy Management), HomePro (Residential Maintenance), Vision Safety (Fire Safety), Nigma (Automation), and Imdaad Al-Batinah (Waste Collection).
Imdaad UAE Careers New vacancies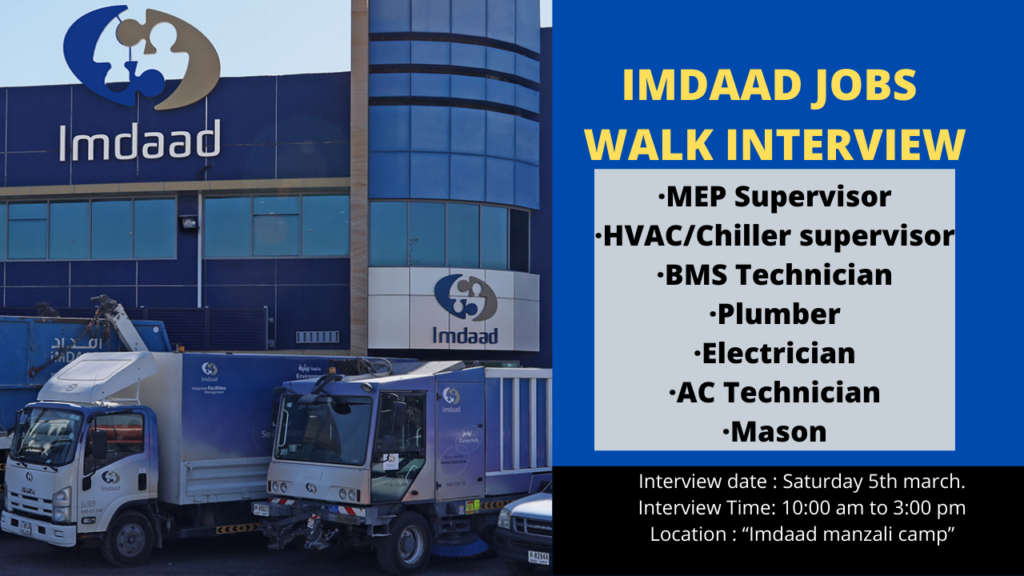 Imdaad will conduct a walking interview in Abu Dhabi and Dubai on the dates listed below. A group of companies operated by Dubai's Investment Corporation (ICD) that offers integrated and long-term facility management services. In Dubai are in good demand in the group.
Work Experience and Qualification
3 years minimum supervisory experience in soft services – Facilities management
Soft service operations must be well-understood – Facilities management
Ability to communicate effectively
Written and spoken English are both fluent.
It will be advantageous if you have a UAE driver's licence.
This position necessitates secondary certification.
Eligibility and Criteria
Priority will be given to candidates with experience in the Gulf Cooperation Council (GCC) or the United Arab Emirates (UAE).
Those who are able to begin working immediately will be preferred.
A copy of the applicant's curriculum vitae, a coloured passport, and one passport-size photograph are required (white background)
You must produce your original passport when applying for a Visit visa or a visa that has been cancelled.